New affordable apartment complex in Virginia Beach's arts district provides much needed housing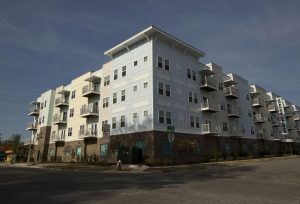 Stacy Parker  | Apr 28, 2019
Several years ago, upkeep of the aging apartments had become too expensive, said Robin Gauthier, executive director of Samaritan House, so the nonprofit began to seek a partnership with a developer. That's when the Lawson Cos. of Virginia Beach presented an idea too good to pass up.
"They had this great plan where we could still have some income coming in," Gauthier said.
Steve Lawson and Carl Hardee of the Lawson Cos. wanted to bring an aesthetically attractive project to the ViBe that could also be affordable for people who wanted to live there. They worked to secure state tax credits by setting aside units for low-income clients or those with developmental disabilities.
"We were looking for ways to make construction costs and funding sources balance," Lawson said.
SOURCE: https://pilotonline.com/business/real-estate/article_00ab2f06-6213-11e9-9d0f-27ed0214a262.html